Don't worry. There are numerous productivity apps available to remove distractions and keep you moving towards your goals.
Whether you are an entrepreneur, productivity hacker, or just simply working on improving your productivity, here is our ultimate guide of apps to help you stay on task and increase productivity in 2020. 

What is the best habit tracking app? (habit tracker)
ObjektivApp is an evidenced based productivity app that you can use to get things done, maintain, and form new habits. It specifically focuses on how to achieve your goals through the use of implementation actions and financial penalties – rather than just vague and empty promises to yourself about what you want to achieve.
Implementation actions are triggers that make you do something (e.g I'll do 10 setups every time there's an ad break). Financial penalties help motivate you to actually follow through on your implementation actions.
You stake money that you will follow your implementation actions. Each time you self report that you didn't follow through, ObjektivApp gives part of your stake to an organisation you hate.
Habitica is undoubtably the funnest way to get those difficult tasks done and even form new habits along the way. Habitica gamifies your life by making the tasks you need to do part of a massive adventure role playing game.
With its in-game rewards and punishments you'll be motivated and inspired towards your goals – and keep your character building and progressing.
It also has a large social network to which helps to inspire (pressure) you. So, if you're looking to kill monsters (and old habits) and get things done then start your adventure to better productivity with Habitica.
HabitMinder is all about getting you to identify the habits you want to form and set you on the right track – quickly. The app does the major categorisation and templates for habit formation for you.
As soon as you start the app, it presents you with various habits covering topics such as body, health, and mind. Within each topic there's a range of options, from reading to walking, meditating to running. I
If you're short on creativity but know you're looking to integrate more positive habits into your life then this is a great way to get started. This productivity app also offers tight integration with Apple Health. You can allow the app to read the data and check-in automatically in the app.
What is the best chat app? (team apps)
Troop Messenger is a compact remote work tool for small, medium, and
large enterprises. This high functionality, low-complexity tool
addresses various domain specificities. Team members can interact via
instant messaging, audio and video calling, location and file sharing,
and by creating unlimited groups on the go.
This Slack alternative allows admins to add vendors, suppliers, and
freelancers as orange members who get restricted access to the
workspace. Troop Messenger can be integrated with essential apps like
Dropbox and Google Drive. With Troop Messenger, your team can migrate
their files, documents, and do a lot more than texting.
What is the best productivity app? (Todo Lists)
ToDoist is the ultimate in todo list and productivity apps. Not only can you involve other people in your lists, it will also interpret your garbled notes and automatically organise them and set reminders.
Its natural language capabilities is where it really stands above its competitors. For example, if you type in the task "Make a deposit every month" the application will understand and set up a reminder for you every month on the date set.
Any.do is an award-winning productivity app which has helped millions achieve productivity gains. This application has a simple user interface. It is easy to create tasks either as an individual or while working in teams.
It has different themes for you to customize the look of your application. Also, Any.do can be linked to the Google calendar to keep all your activities consolidated and synchronized.  
"I spend a lot of time reading" – Bill Gates
It's true – he really does. Reading is continually espoused as one of the single most important habits to form by some of the world's most productive individuals.
But, how's your reading list looking? If like most of us mere mortals you own more books than you've ever read (or think you'll never have the time to finally dust off the shelf) then this is the productivity app for you.
Blinklist saves you the time in having to read those pesky longwinded books and instead gives you the key sparknotes from the nonfiction books in text and audio formats. This productivity app will seriously increase your knowledge and comprehension of some of the most important topics and ideas.
What is the best planner app? (Calendar/Planning)
Google calendar remains the Roll's Royce of planning and productivity apps. It can be used across all gadgets and is applicable to be used for teams and also for personal purposes. This application lets a user manage many calendars and set reminders for events.
The app integrations with Google Maps when locations are added to an event. This helps you swiftly get directions to an event via shortcut on a reminder notifications.
Trello is a web-based project management tool. It utilises a process management methodology called Kanban to help organise your work.
The essence of Kanban is that you break large projects down into smaller stages and units of work. You then get to understand the progress that you can make on different units of work in your projects and what is waiting on what.
Highly visual, Trello has become a staple for millions of projects managers and engineers to plan and complete large projects. However, there's no reason that you can't use Trello to achieve your personal productivity goals for things such as household chores, meal planning, and that side-hustle.
Most people use separate scheduling and calendar tools. While these apps usually integrate, it takes up headspace and so saps on your productivity. Woven is a productivity app that puts everything together.
With slick onboarding, it comes with ready to roll templates for different event types. This allows you to set up scheduling links for people to book appointments and fill your calendar.
It also has an excellent "my time" feature that shows you your free time – after all, maintaining some you-time is just as important a lesson as managing your productive time.
What is the best time management app? (Time Management)
Harvest is an active time tracking and productivity app. It easily allows you to start and stop timers while working or enter hours into a timesheet. You can access it on mobile or desktop.
What really sets it aside from the crowd though is it's integrations into the tools in your existing workflows. It has dozens of such integrations, which will simply your time tracking by monitoring the work you're doing in the apps and reduce erroneous timing.
Harvest also comes with end-to-end billing support, so you can easily invoice clients straight from your time tracking.
Toggl is an active time tracking and productivity app. It has a simple user interface that lets you organize time spent on different projects.
The feature that sets it apart from other applications of its kind is its "idle-time" feature. If the application notices that you have not touched the mouse or keyboard for a while, it categorizes it as idle time. You can discard this tracked idle time. This feature is essential because it eliminates the worry of tracking time erroneously.
RescueTime is a passive time tracking app. Once you install RescueTime on your phone, you can basically forget all about it. A report will automatically be generated and sent to you showing you how you have been spending your time. Once an analysis has been run you can then set up RescueTime's distraction blocking features to help minimise wasting time going forward.
What is the best personal productivity tool? (Personal Development)
One of the most prevalent issues people have is maintaining their fitness – particularly during periods of high work stress. This is a killer for productivity, since working out has a tonne of benefits for your work capacity and focus.
The strong application is a workout tracker that will help you keep fit and pushing yourself. This productivity app has workout drills designed by professionals and helps users to keep track of their progress. Importantly, it can suggest the next increment of exercises so that you are always challenging yourself. 
Headspace will help you live a healthier, happier, more well-rested life in just a few minutes a day. The application has several guided meditations to fit into your busy schedule, with the aim of achieving mindfulness – a state of being aware of your thoughts, feelings, emotions, and why we are experiencing them.
This helps us deal with stress and anxiety. By getting on top and being in control of your emotional self you'll be far better prepared to be productive. 
Whether you have an upcoming presentation, have to get that thing done by the deadline, or you're running a marathon, there's one common piece of advice you'll get from your support network – "get a good night's sleep". Numerous studies show that nothing comes close to killing productivity like lack of sleep.
During the day, computer screens are fine. However by the time evening comes (…or 3AM lurkers we see you too 👀), the light and color settings of screens can prove seriously detrimental to your ability to achieve proper sleep.
Flux adapts the color of your computer's screen to the time of day and the lighting of the room you're in. You could use Flux because it makes you sleep better, or just because it looks better.
What is the best note taking app? (Note-Taking)
Evernote enables you to organize your notes into digital notes and in the form of stacks. It automatically stores your notes in the cloud hence offering you ubiquitous access and a backup of your notes. Additionally, this application can help you take notes in the form of audio recordings, images, and PDF.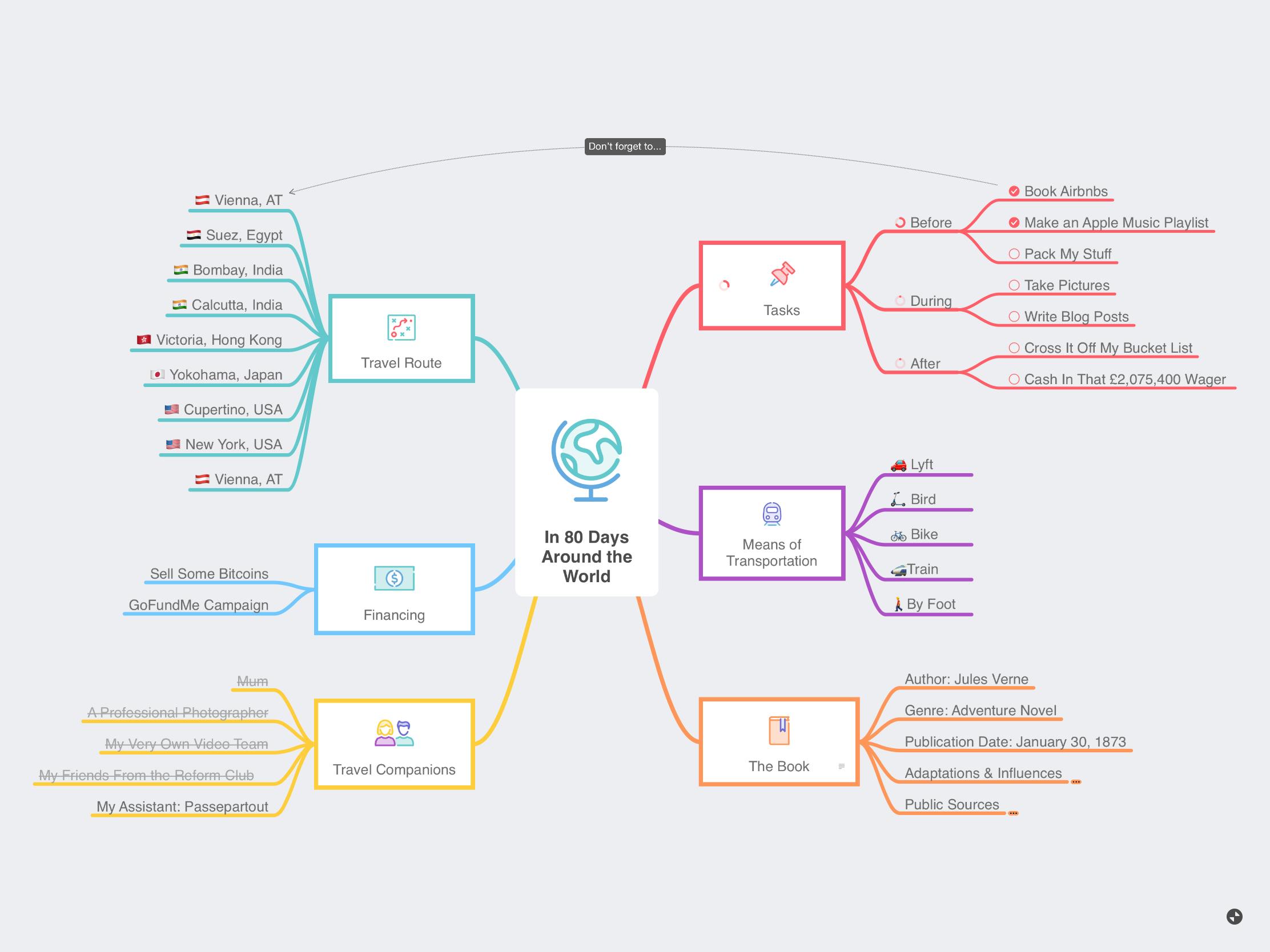 The human mind is always active. Endless thoughts flow in people's minds. At times, such thoughts can turn out to be pretty great ideas but it may be hard to organise and realize this immediately. Therefore, taking down notes of random ideas can help identify the good ones and relationships between them. MindNode is a productivity app that helps a user jot down random thoughts, organize them into useful ideas, and create ways to actualize these ideas.  
There are plenty of writing tools out there, however, none of them actively help you to write productively. Blurt goes beyond being a blank page for ideas and instead helps you structure, edit and share your best work.
With productivity at its heart, Blurt is feature rich with compelling differentiators such as: smart editing (which identifies bad grammar, verboseness, and hard to read sentences), time/word count goals (to get you to write for the amount of time or volume required), outline (which has you sketch the structure of your piece and then fill it in), and in build publishing.
What is the best productivity app for iOS/iPhone? (iPhone/iOS)
Shortcuts (formerly known as Workflow) is an iOS app that helps you run complex tasks at the click of a button. This productivity app is highly customisable and hooks into many areas of iOS.
The app supports tonnes of functions that perform a specific tasks. Multiple actions can be combined into a single task and so your imagination is the limit when it comes to automating complex multi-step workflows.
A great ecosystem already exists around possible workflows, and so there are are loads of off-the-shelf examples that you can readily get using.
"I use my phone too much" – Tim Cook, CEO of Apple
Not only are our distracting phones seriously detrimental to our focus, but there's also evidence linking over-exposure to unhappiness. Fortunately, Hatch has one of the most beautiful and fun solutions to giving your phone a break.
You simply set how long you'd like to focus for and during that time your phone incubates a random creature from and egg. If you don't leave the app then you hatch a new friend. This focus lock acts as a mental 'speed bump' that trains your brain to develop impulse control.
Gamification in this way spins the tactics that the big app developers use to keep you hooked to work in your favour for productivity purposes.
Unfortunately, note taking on your phone can be a real hassle. How often do you email yourself information? But, not with Bear. Bear is a supercharged note taking and productivity application that surpasses the default notes app that comes with iOS.
It also supports cross-note linking so that you can build your own mini wiki of information across multiple notes. So, forget your own email address and start structuring and organising those notes.
What is the best productivity app for Android? (Android)
Not only are our distracting phones seriously detrimental to our focus, but there's also evidence linking over-exposure to unhappiness. Forest beautifully gamifies staying off your phone and focussed on other things…all while saving the planet. You can't ask for much more than that.
The objective of the game is to build a lush and diverse forest by planting trees. To plant a tree you simply set a goal for staying off your phone. If you mange it, your tree grows. If you don't, your tree dies. G
Gamification in this way spins the tactics that the big app developers use to keep you hooked to work in your favour for productivity purposes.
This productivity app's developers have also partnered with Trees for the Future to plant actual trees based on your in game progress.
ClearFocus is a time management and productivity app. It is based on the Pomodoro technique ( alternating work sessions with small breaks). This will let you concentrate on get things done while rewarding you with small breaks in between. There is an in app timer, but important it also stops you from using your phone whilst it's active.
TickTick is a todo list that comes with a seriously slick UI and a number of important differentiators over competitors. You can add tasks, break them down, and set deadlines. You can even get a filtered view of your todos based on your location. Another important differentiator over competitors is that it's also super easy to share tasks with team members. It even comes with a built in Pomodoro timer to motivate you to between work and play.
Best productivity apps for mac? (mac tools)
How many files do you have on your desktop? Screenshots, lists, reminders…they all go there. Hazel is the productivity app that Apple forgot and is a must for those with a tendency to leave their files all over the place.
Hazel keeps an eye on whatever folders you want it to and automatically organizes your files according to rules you define. It can move things around based on name, date, type, what site it came from, and much more. As an added bonus, Hazel can also manage your trash and automatically clear it out when things become cumbersome.
Ever open a new tab and seemingly on autopilot one of the following you end up at Facebook, Twitter, Instagram, shopping websites, a video, or game? Apps and sites are meticulously crafted to keep you addicted and mindlessly revisiting for your next fix. This destroys your productivity, focus, and general well-being.
Freedom gives you back control. It can block distracting websites and apps, and help you break the annoying habits of opening them in the first place. In time you'll develop healthier, and more intentional habits – giving you control over your time and attention.
Alfred is many things to it's many users, but, in a nutshell, it allows you to perform all kinds of custom tasks and workflows with just a few keys. Similar to Spotlight, you can start apps, search for files, and search the web. However, blasting past Spotlight's functionality, you can also create custom web searches, powerful workflows, and integrate other applications to do useful things quickly and efficiently.
A great ecosystem already exists around possible workflows, and so there are are loads domain specific examples you can find.
What is the best productivity apps for work? (work)
Soulver allows you to calculate values using sentences. Sounds a bit niche, right? How many tediously crafted spreadsheets do you have for trivial cost calculations, reporting, or back-of-the-envelope estimates? How much was that in Euros? What's that in inches?
Soulver gives you some of the power of a spreadsheet but using natural language. This productivity app provides one of the simplest ways to do calculations without the tediousness of a spreadsheet or calculator.
Do you spend a lot of time on the road or going between meetings? Travel arrangements and planning can become a real time sink for productivity. Tripit is a productivity app that will organise your travel plans no matter what service you use to book them.
Just forward confirmation emails to plans@tripit.com and the Tripit app will create a beautiful master itinerary for you. It will then organise notifications such as the gate your plane is arriving at, delays, etc so you can stop worrying about travel and focus on the purpose.
Airtable is a powerful productivity app that you can use to manage everything from your calendar to your hiring process. Airtable's most unique quality is it's undefinability – it doesn't limit what you can do with it.
It gives you spreadsheets, the ability to create links and relationships between them, and mini-apps. You then use these apps to build your own workflows and templates. The result is a tool that is a diverse assistant for virtually anything. Even more, it's fully collaborative for you and your team.
Kurator is a chrome extension that enhances your Bookmark Manager and lets you add comments, publisher, author, content tags, date and twitter handle to the pages and links you save. Additionally, you can publish your curated research online into a Pinterest-like visual content library.
The list of productivity applications above make it simple to be more productive in a number of ways. From list writing, planning, time management, work, and personal development to ideating and note-taking, we're sure that this list has you covered. However, apps don't work magic. Being productive goes beyond just installing some apps. You need to cultivate a mental attitude that is geared towards organising your life.
No matter the tool or method, you can form strong productivity habits by using these apps. If you're interested in forming good habits alongside any of these tools or techniques, then check out objektivapp – a habit and productivity app that financially hurts to fail.
Did we miss any of your favourite tools? What aspect of your productivity do you hope to improve? Let us know in the comments.